Alvin L. Ives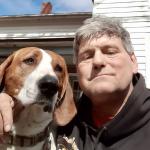 Alvin Lee Ives (October 3rd, 1958- January 30th, 2021)
Mr. Alvin L. Ives, 62, of Ellicottville, NY died unexpectedly at home. Alvin spent the majority of his years close to friends and family, living and working as a tradesman in Cattaraugus County.
He loved to be outdoors. A lifelong fisherman and hunter, Alvin truly enjoyed himself in nature. His vegetable gardens and generosity provided some of the best backyard produce, and he never missed a good barbecue. Most of all, Alvin was a proud father and grandfather. He will be greatly missed by his many friends and family.
Alvin was preceded in death by his parents, H. Kenneth Ives and Anna Margaret Wulf Ives, of West Valley. The youngest of six siblings, he is survived by brothers John (Sara) Ives, Kenneth Mark Ives, Daniel Ives; and sisters Barbara (Richard) Fuller and Susan (John) Mitchener.
He is also survived by his daughters, Cortney Ives (Dan) and Shanon Ives (James), and his grandchildren, August and Stella. Uncle Alvin will be fondly remembered for his fun-loving nature by his numerous nieces and nephews. He was preceded in death by his brother Peter Ives and nephew Jacob Ives.
Due to pandemic conditions, the family will make decisions regarding a summer memorial at a later date.
Funeral arrangements are under the direction of the O'Rourke & O'Rourke Inc. Funeral Home, 25 River Street, Salamanca, NY.
E-condolences can be sent to orourke.orourkefh@gmail.com or posted to facebook.com/onofh.