Audrey Krause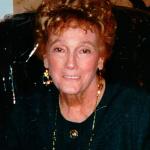 Mrs. Audrey Bishop Krause, 91, of Salamanca, NY died peacefully at home Saturday, March 5, 2022.
Born May 8, 1930 in Salamanca, NY, she was the daughter of the late Harley and Helen Schons Bishop. She was married January 1, 1951 to Mr. Clarence "Cy" Krause, who predeceased her on April 9, 2004.
She was a graduate of Salamanca High School, Class of 1947 and earned her Associate's Degree in Nursing from JCC in 1981.
Audrey had been employed at the former St. Francis Hospital as a registered nurse in the maternity ward. She assisted in delivering several local children during her time there.
She was a member of the former Alliance Community Church, where she served as treasurer for several years, the Ladies' Auxiliary of the American Legion Hughes Skiba Post #535, the Euterpian Club, and participated in the Cantata Choir. She was an avid reader and enjoyed word games, especially crossword puzzles, knitting, crocheting, and cross stitch. She loved her cats, travelling, and listening to music, especially her grandchildren's music.
Surviving are: four daughters, Debbie Nelsen, Rochester, NY, Sandy (Don Jr.) Scharf, Ellicottville, NY, Audrey Jeanne (Bill) Krause, Tucson, AZ, Joyce (Tony) Bergstrom, Salamanca, NY; eight grandchildren, Danielle (George) Lorenzo, Rochester, NY, Colin (Laura) Scharf, MN, Lauren Scharf, Jamestown, NY, Bryan (Renee) Scharf, Ellicottville, NY, Courtney Bergstrom, Salamanca, NY, Brent Bergstrom, West Seneca, NY, Denelle Megariz, Danielle Megariz, both of Tucson, AZ; ten great-grandchildren, Ella Lorenzo, Aniken Lorenzo, Braeden Kyler, Korah Scharf, Mirah Scharf, Korbin Scharf, Natalie Gamble, Aliza Gamble, Annabella Mims, Layla Mims; several nieces and nephews.
She was predeceased by a daughter, Tamara Silverman, three sisters, Geneva Zimmerman, Elaine Armstrong, Edna Fay Bishop, and a brother, Kyrol Higbee.
There will be no visitation.
Memorial visitation will be held in the O'Rourke & O'Rourke Inc Funeral Home, 25 River Street, Salamanca, NY on Friday, June 17, 2022 from 12 - 1 p.m., at which time memorial services will be held with Rev. Terry Davis of the Dewittville Christian & Missionary Alliance officiating.
Burial will be in Wildwood Cemetery, Salamanca, NY.
E-condolences can be sent to orourke.orourkefh@gmail.com.