Brett W. Abrams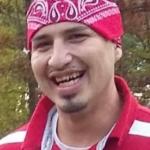 Brett W. Abrams-Redeye, 32, of Salamanca, NY died unexpectedly Tuesday, February 1, 2022 at Olean General Hospital.
Born August 10, 1989 in Olean, NY, he was the son of William Abrams, Salamanca, NY and Annmarie Redeye, Gowanda, NY.
He was an enrolled member of the Seneca Nation of Indians, of the Turtle Clan, and the Coldspring Longhouse.
He attended Salamanca High School.
Brett was a self-employed tattoo artist.
Brett was a Golden Gloves boxer, a 3x National Native American Champion, and held the record for the quickest knockout. He enjoyed his artwork, music, and was a Rez Dog Soldier. He also enjoyed the outdoors, hunting, fishing, and was an avid Buffalo Bills and Sabers fan.
Surviving are: three sisters, Tanya (Griffith) Shane, Milwaukee, WI, Michele John, Salamanca, NY, Sierra (Jake Dowdy) Abrams, Great Valley, NY; two brothers, William D. Abrams, Salamanca, NY, Dustin Lee, Oceanside, CA; several aunts, uncles, cousins, nieces, and nephews.
Friends may call at the family home, 86 Jefferson Street, Salamanca, NY 14779 beginning Thursday afternoon, February 3, 2022 and continuing all day Friday.
Funeral services will be held in the family home on Saturday at 10am.
Burial will be in Memorial Heights Cemetery, Jimersontown, NY.
Funeral arrangements are under the direction of the O'Rourke & O'Rourke Inc. Funeral Home, 25 River Street, Salamanca, NY.
E-condolences can be sent to orourke.orourkefh@gmail.com.