Chad Skoken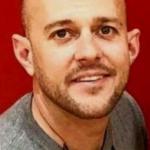 Chad Skoken, 38, of Salamanca, NY died unexpectedly Monday, January 13, 2020.
Born May 30, 1981 in Jamestown, NY, he was the son of William (Cindy) Skoken and Malinda (Wendell) Haines, all of Salamanca, NY.
Chad was a graduate of Salamanca High School, Class of 2000.
He had been employed in the construction field and had been employed at Worth W. Smith in Salamanca.
He will be remembered as a great father, and enjoyed spending time with his daughters. He was an avid outdoorsman who enjoyed hunting and fishing and was an avid Buffalo Bills fan. Chad was an eternal goonie, a kind and gentle man who had a love for everyone and everything.
Surviving besides his parents are: two daughters, River Skoken, Salamanca, NY, Maleena Adamzcak, Orchard Park, NY; a sister, Molly (Justin) Wojtowicz, Randolph, NY; maternal grandfather, Virgle (Sandra) Poling, Bradford, PA; paternal grandmother, Susan Skoken, Salamanca, NY; two nephews, Laiden and Madden Wojtowicz, both of Randolph, NY; several aunts, uncles, and cousins.
Memorial visitation will be held in the O'Rourke & O'Rourke Inc Funeral Home, 25 River Street, Salamanca, NY on Sunday, January 19, 2020 from 12 p.m. – 3 p.m., at which time memorial services will be held with Jerry Craver officiating.
In lieu of flowers, the family suggests memorials be sent to EARS, P.O. Box 445, Salamanca, NY 14779.
E-condolences can be sent to orourke.orourkefh@gmail.com or posted to facebook.com/onofh.