Dorothy I. Markham Stickney Glow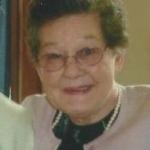 Mrs. Dorothy I. Markham Stickney Glow, 88, of 60 Wolcott Street, LeRoy, NY, formerly of Salamanca and Little Valley, NY died at home on Monday evening, April 18, 2022 of dementia and pancreatic cancer.
Born September 11, 1933 in Great Valley, NY, she was the daughter of the late Leslie and Berenice Reed Markham. She was married to Mr. Robert Stickney, who predeceased her in 1963 and then in 1968 to Mr. Albert Glow, who predeceased her in 2013.
She was a graduate of Salamanca High School, Class of 1951.
Mrs. Glow was a homemaker and caregiver who loved being a wife and mother.
She was a member of the former United Congregational Methodist Church, lifetime member and Past President of Post 535 American Legion Auxiliary and Cattaraugus County American Legion Auxiliary, the Veterans of Foreign Wars Auxiliary, Kill Buck Volunteer Fire Company Auxiliary, a former Cub Scout Den Mother in Little Valley, NY and the United Church of Christ, Salamanca, NY. She was an avid bowler and enjoyed the outdoors and camping.
Surviving are five daughters, Ruth Wyatt, Salamanca NY, Betsy (James) Harvey, Randolph, NY, Amy J. Stickney Simcick, LeRoy, NY, Shirley Stickney, Jamestown NY, and Rosemary (Doug) Glow Baldwin, Little Valley, NY; two sons, Mark Stickney, Seattle, WA, and James (Virginia) Glow, Ft. Wayne, IN; five stepchildren, Adelbert Glow, NY, Chan (Luann) Glow, Little Valley, NY, Peggy (Russell) Fredenburg, Holiday, FL, William Glow, Steamburg, NY, Grace (Dennis) Ridout, Randolph, NY; many grandchildren and great-grandchildren, and great-great grandchildren; a sister, Rosemary Fish, Salamanca, NY; several nieces and nephews, as well as numerous community children she cared for in her home in Little Valley NY.
She was predeceased by longtime companion, Norman Frank, a sister and brother-in-law, Donna and Rick Quattrone, brother-in-law, William Fish, sons-in-law, Paul Wright, Ronald Wyatt, Robert Clifford, a grandson, Russell Fredenburg Jr., and two nephews, Thomas Feneran and Richard Feneran.
Friends may call at the O'Rourke & O'Rourke Inc. Funeral Home, 25 River Street, Salamanca, NY on Wednesday, April 20, 2022 from 7:00 p.m. to 9:00 p.m. and Thursday, April 21, 2022 from 11:00 a.m. to noon, with funeral services immediately following. Rev. Michael Trenchard will officiate.
Burial will be in Willoughby Cemetery, Great Valley, NY.
In lieu of flowers, the family suggests memorials be sent to the Little Valley Volunteer Fire Department, 101 3rd Street, Little Valley, NY 14755.
E-condolences can be sent to orourke.orourkefh@gmail.com.