Ellen Oyer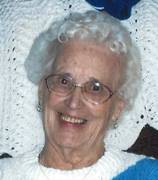 Mrs. Ellen Oyer, age 91, of Peth Road, Great Valley, New York, died early Saturday afternoon, June 11, 2011, at Bradford Regional Medical Center, following a long illness.
Born October 25, 1919, in DuBois, Pa. she was the daughter of the late John and Gertrude Hill McFeeley. She was married in St. Patrick's Church on April 24, 1937, to Mr. Paul Oyer, who predeceased her on October 12, 2004.
Mrs. Oyer attended Salamanca High School and was 1960 graduate of the former St. Francis School of Practical Nursing in Olean, New York.
She had been employed as a nurse at the former Salamanca District Hospital, the former St. Francis Hospital, and the Allegany Nursing home prior to her retirement. Mrs. Oyer currently worked as a volunteer at the Red Cross Blood Bank in Salamanca.
Mrs. Oyer was a member of the Rochester, New York Benevolent, Patriotic Order of Does #104, Great Valley Home Bureau, the Ladies Ancient Order of Hibernians, the Salamanca Hospital Retired Personnel.
Surviving are: 2 sons, Mr. Patrick Oyer, Peth Road, Great Valley, Mr. Jerome "Mike" Oyer, Williamston, SC; 7 grandchildren; 21 great grandchildren; one great-great grandson; several nieces and nephews.
She was predeceased by a sister, Dorothy Wilbur; two grandchildren, Timothy Oyer, and Carrie Ann Harbison.
Friends may call on Tuesday, June 14, 2011, from 4-7 P. M. at the O'Rourke & O'Rourke Inc. Funeral Home, 25 River Street, Salamanca, New York.
A Mass of Christian Burial will be held on Wednesday at 11 AM in Holy Name of Mary, Ellicottville, New York, with Rev. Patrick Melfi, pastor of Our Lady of Peace Parish, as celebrant.
Burial will be in Calvary Cemetery, Salamanca, New York.
E-condolences can be sent to john@orourke-orourke.com, or posted to facebook.com/onofh.