George P. Schmick Jr.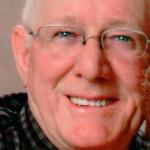 George Schmick Jr., 84, of Salamanca, NY died Sunday evening, January 3, 2021 at Olean General Hospital following a long illness.
Born October 11, 1936 in Salamanca, NY, he was the son of the late George Sr. and Rose Bruno Schmick. He was married February 4, 1989 to the former Janet Oyler LaCroix, who survives.
He was a veteran of the United States Navy, serving as a Radio Operator aboard the USS Roanoke.
Mr. Schmick had been employed as a Custodial Engineer for the Salamanca Central School District for twenty years, retiring in 2001. He also taught as a substitute teacher at the school.
He was a member of Our Lady of Peace Parish. He enjoyed golfing and was a past member of Elkdale and Birch Run Country Club. He also enjoyed woodworking in his shop, was an avid reader, and was a handyman to all.
Surviving are: two sons, Gregory (Elena) Schmick, Madera, CA, Michael Schmick, Orlando, FL; a daughter, Melissa Schmick, Sarasota, FL; two stepdaughters, Mary Kay (Earl) Jenks, Barre, NY, Susan (Daniel) Stone, Jamestown, NY; two stepsons, Timothy LaCroix, Kill Buck, NY, Jay (Peggy) LaCroix, Ellicottville, NY; two grandchildren, Alex Morehouse, Buffalo, NY, Genesis (Braden) Crouch, Madera, CA; nine step-grandchildren, Myra, Priscilla, Katie, Nicholas, Jessica, Brianna, Bryce, Evelyn, Gian; a brother, Ronald (Bonnie) Schmick; a nephew, Robert "Bubba" Schmick, Great Valley, NY; three nieces, Jody (David) Winship, Salamanca, NY, Jennifer Schmick, Kill Buck, NY, Wendy (Scott) Vonmoppes, Myrtle Beach, FL.
He was predeceased by a brother, Robert Schmick.
Due to COVID-19, there will be no visitation. Private funeral services were held at the O'Rourke & O'Rourke Inc. Funeral Home, 25 River Street, Salamanca, NY with Deacon Michael Anderson of Our Lady of Peace Parish officiating.
A graveside committal service in Calvary Cemetery, Salamanca, NY, with full military honors will be conducted by members of the American Legion Hughes-Skiba Post 535 and the Veterans of Foreign Wars John F. Ahrens Post 5296 on Monday, July 26, 2021 at 10 am.
In lieu of flowers, the family suggests memorials be sent to the Salamanca Youth Center, 36 South Avenue, Salamanca, NY.
E-condolences can be sent to orourke.orourkefh@gmail.com or posted to facebook.com/onofh.