James R. Halterman Sr.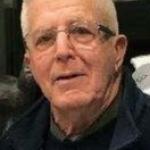 Mr. James R. "Jim/Pop-Pop" Halterman Sr., 82, of Salamanca, NY, died at home unexpectedly Tuesday, January 7, 2020.
Born August 26, 1937 in Goodrich, TX, he was the son of the late James W. and Helen Thompson Halterman.
Jim led an active and varied life. He graduated from Salamanca High School, Class of 1955. Following high school, Jim attended the Williamsport Technical Institute, where he studied heavy equipment operation; he graduated in 1957. Jim worked on the Niagara Power project until he entered the Army in 1960. He served until 1962, achieving the rank of SP4. Jim worked at the Allegany State Park from 1963 until his retirement in 1993, where he became a fixture of park life. During his tenure, he played many roles and worked on numerous projects – notably, the ski tow and the excavation of what would become Quaker Lake. He was appointed the Town of Salamanca Justice of the Peace in 1989, and remained in that role until his passing. He performed over 300 marriages during his time in office. He devoted his life to his community, to law enforcement, and to the NYS Park System.
Jim was a strong, determined man with a kind heart, and will be remembered for all of the lives he touched. He mentored many children and was proud of the impact he had on their lives. His door was always open; anyone who stopped by benefited from his coffee, conversation, humor, and wisdom. Jim readily gave of himself, helping anyone in need at any time of the day or night. Family was Jim's top priority; his kind and generous spirit mean that his family included many, many friends. He enjoyed history, hunting and fishing, playing practical jokes on others, and being a "gentleman farmer".
Surviving are: his long-term life partner, Brenda D. Fuller; two sons, James (Tammy) Halterman, Jr., Salamanca, NY, John (Liane) Halterman, Mansfield, NY; seven grandchildren, Jake, Sydney, Courteney, Hunter, Joshua, Abigail, and Alicia; a great-grandson, Easton; a sister, Patricia (Peter) Budzinski, Salamanca, NY; nieces, Tara and Hannah, and nephews, Thomas, Timothy, and Todd.
He was predeceased by his parents, James and Helen, a son, Joseph M. Halterman, and a brother, Thomas Halterman.
There will be no visitation. A memorial service will be held at the convenience of the family and will be announced.
Funeral arrangements are under the direction of the O'Rourke & O'Rourke Inc Funeral Home, 25 River Street, Salamanca, NY.
E-condolences can be sent to orourke.orourkefh@gmail.com or posted to facebook.com/onofh.