Jimmie J. Bartlett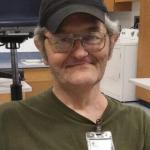 Jimmie J. Bartlett, 64, of Upper State Park Avenue, Salamanca, NY died Saturday evening, October 30, 2021 at home following a short illness.
Born August 2, 1957 in Richwood, WV, he was the son of the late Fern Wagner Mohr and the late Walter Bartlett. He was married to the former Elaine M. Kennedy, who predeceased him in 2016.
Mr. Bartlett had been employed at Cattaraugus Little Valley Central School as a cleaner for years in the former Donver Lumber Company, Great Valley, NY.
He was an avid football and baseball fan.
Surviving are: a stepson, Ricky Morton, Buffalo, NY; a stepdaughter, Juanita Cobert, Salamanca, NY; four step-grandchildren, Jillian Lamberson, Felecia Covert, Maria Covert, David Brooks III; five brothers, Heil Bartlett, Jamestown, NY, Nathan Bartlett, Buffalo, NY, Todd Bartlett, Limestone, NY, Rex Bartlett, Franklinville, NY, Ray Bartlett, Salamanca, NY; three sisters, Dora (Howard) Talbot, Salamanca, NY, Darla Hayes, Jamestown, NY, Rhonda Bartlett, Elmira, NY; three half-brothers, John Mohr Jr., OH, Randy Bartlett, Jamestown, NY; two stepbrothers, Dana Mohr, TX, Eric Mohr, SC; six great-grandchildren; several nieces and nephews.
He was predeceased by a sister, Doris Calkins and two stepbrothers, John Mohr, and Walter Wagoner.
There will be no visitation.
A Celebration of Life will be held at the American Legion, 67 Wildwood Avenue, Salamanca, NY on Sunday, November 14, 2021 at 2pm.
Burial will be in Crawford Cemetery, Salamanca, NY.
Funeral arrangements are under the direction of the O'Rourke & O'Rourke Inc. Funeral Home, 25 River Street, Salamanca, NY.
E-condolences can be sent to orourke.orourkefh@gmail.com or posted to facebook.com/onofh.