Joyce Terrien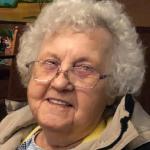 Joyce E. Terrien, 87, of Mount Vernon, Illinois, passed away at 2:45 pm March 11, 2022 at SSM Health Good Samaritan Hospital in Mount Vernon. She was born August 21, 1934 in Gowanda, New York to the late Carl Edward and Ida Geraldine (Williams) Hull.
Joyce is survived by daughters, Anne Gallo of Broken Arrow, Oklahoma, Susan Dolecki of Randolph, New York, Elizabeth Jablonski of Nashville, Illinois; son, John Terrien and wife, Tina of Waltonville, Illinois; grandchildren, Andrew Occhuzzo, Marianne McClain, Erin Davis, Luke Jablonski, Gabrielle Terrien, Brandon Terrien, Nikolas Terrien; and great-grandchildren, Rylee, Jaxon, Sophia, Noah, Bailey, Madi, and Lucas.
In addition to her parents, Joyce was preceded in death by her husband, Paul Dolecki; son, Stephen Dolecki; grandson, Victor Longley; sons-in-law, Bill Sneller and Mike Gallo; sister, Carol Mason; and infant brother, Ronald Hull.
Joyce was a member of Holy Cross Church in Salamanca, New York. She attended St. Bonaventure University in New York. Joyce enjoyed doing puzzles, was an avid reader, and loved crafts. Joyce would decoupage and recondition furniture. She was very creative. Joyce enjoyed to cook even though she wasn't always the best at it. She was an intelligent woman and called herself a professional student. Above all, Joyce loved her family and enjoyed spending time with each and every one of them.
There will be no public services held. Memorials may be made in Joyce 's honor to St. Jude Children's Hospital.
Call Hughey Funeral Home at 618-242-3348 or visit hugheyfh.com for further information.