Karen A. Johns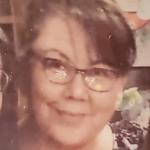 Karen A. Johns, 50, of Steamburg, NY, died Monday, November 22, 2021 at the Salamanca Rehabilitation & Nursing Center following a long illness.
Born February 25, 1971 in Farmington, NM, she was the daughter of the late Allan and Elsie Palmer Johns.
She was an enrolled member of the Navajo Nation and the Tsenahabilinii Clan, born for Taneezhani maternal grandfather Toaheedloini and paternal grandfather Ozee Tachiiniii.
She was a graduate of Kirtland Central High School, Kirtland, NM, Class of 1989. She also attended the Albuquerque Business School, Albuquerque, NM.
Karen had been employed with the Seneca Nation Housing Authority, Salamanca, NY for over seven years and had previously worked at Dillard Department Store, and JC Penny, both in Farmington, NM, Foot Locker, in Oklahoma City, OK, and Citizens Bank, in Farmington, NM. Karen had also resided in Haddonfield, NJ for over two years where she began to sell Navajo jewelry throughout the northeast. She enjoyed traveling, meeting people and hearing about their culture.
She enjoyed sewing, bead working, and attending Powows. She loved watching her children play sports and perform in concerts. She was a big binge watcher and enjoyed going on shopping trips to Erie, Cleveland, Niagara Falls, New York City, and Syracuse. She liked hanging out with family and friends, and loved watching classic movies, Romeo and Juliet, the Godfather I, II, and III, Where the Red Fern Grows, and so many more. She was a big fan of the Nebraska Cornhuskers football team and the North Carolina Tar Heels men's basketball team. She also liked watching the Mexican National Soccer Team and the La Liga League.
Surviving are: a daughter, Nizhoni Kennedy, a son Waymon Kennedy, both of Steamburg, NY; five sisters, Lynne S. Johns, Evangline E. Johns, both of Kirtland, NM, Marcey J. Goodwin, Farmington, NM, Lisa A. Johns, Steamburg, NY, Marsha C. Johns, Kirtland, NM; two brothers, Ronnie T. and Ricky S. Johns, both of Kirtland, NM; several nieces, nephews, and grandmother.
She was predeceased by a sister, Elaine J. Johns.
Friends may call at the O'Rourke & O'Rourke Inc. Funeral Home, 25 River Street, Salamanca, NY on Friday, November 26, 2021 from 4 – 7pm.
Funeral services will be held in the funeral home on Saturday at 11am with speakers from the Coldspring Longhouse officiating.
Burial will be in Memorial Heights Cemetery, Jimersontown, NY.
E-condolences can be sent to orourke.orourkefh@gmail.com.