Lyle C. Boardman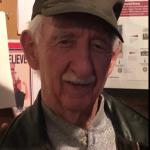 Lyle C. Boardman, 88, of Salamanca, NY died Thursday morning, February 24, 2022 at his home with his daughter Lisa at his side following a long illness.
Born February 6, 1934 in Quaker Bridge, NY, he was the son of the late James Wood and Gladys Boardman. He was married in 1985 in Portville, NY to the former Elizabeth L. Malanowski, who predeceased him in 2018.
He was an enrolled member of the Seneca Nation of Indians and of the Deer Clan. Lyle was the great-great-great-grandson of Governor Blacksnake, past leader of the Seneca Nation. He took pride in his Seneca heritage and was one of the few remaining who could speak the Seneca language fluently.
Lyle owned and operated LC Boardman Plumbing, Heating, and Excavation for almost fifty years and had also worked in the construction industry as a heavy equipment operator. He served as an inspector during the construction of the Seneca Allegany Casino and Hotel, Salamanca, NY. He had also managed the High Banks Campgrounds, Steamburg, NY.
He enjoyed attending and participating in tractor pulls. He bought and restored several old tractors, and built and raced muscle cars in his younger days.
Surviving are: three daughters, Karen (Scott) Ramage, Randolph, NY, Gail (Mike) Schultz, Sherman, NY, Lisa (Rob) Carpenter, Salamanca, NY; four son, Rick (Martha) Armstrong Sr., Salamanca, NY, Dave Sinclair, Steamburg, NY, Mike John Sr., Stephen John, both of Salamanca, NY; a sister, Fredia Colton, Kill Buck, NY; a brother, Judson "Dean" (Ruth Kennison) Boardman, Salamanca, NY; eleven grandchildren; twenty great-grandchildren; several nieces and nephews.
He was predeceased by a son James Dennis and a daughter, Theresa Jimerson.
There will be no visitation.
A Celebration of Life will be held at the convenience of the family and will be announced.
Burial will be in Hillside Haven Cemetery, Steamburg, NY
Funeral arrangements are under the direction of the O'Rourke & O'Rourke Inc Funeral Home, 25 River Street, Salamanca, NY.
E-condolences can be sent to orourke.orourkefh@gmail.com.