Michael S. Rapacioli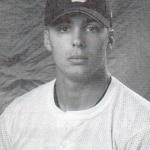 Michael S. "Rap" Rapacioli was born September 16, 1980 and died at home March 16, 2020.
He is survived by his parents, Pete and Karen Gilbert Rapacioli, sister; Tracie (Joe) Rapacioli-Myers; nephews, AJ and Matthew Myers, whom he adored and loved; several aunts, uncles, and cousins.
He graduated from Salamanca High School, Class of 1999 and attended Central Florida Community College, where he played baseball. In his one year at Central Florida CC, he earned a full ride baseball scholarship to St. Bonaventure University, where he attended and played baseball from 2001-2003, when he graduated. At the time of his graduation, he had set the career home run record at 31 after only 3 seasons with the Bonnies. He currently sits 2nd in career home runs (31), 6th in batting average (.348), 7th in doubles (40), 7th in RBIs (127), 3rd in slugging percentage (.649), and 9th in runs scored (117). While at St. Bonaventure, he was supported by coach Larry Sudbrook and a large group of Bonnies baseball families. Between his junior and senior years, he played in the prestigious Cape Cod League, where he had the privilege of playing for the Orleans Cardinals, the team for which his childhood idol, Frank "The Big Hurt" Thomas played for; he also was able to wear the same jersey number and play the same position (1B).
After graduation, Mike moved on to play in the Independent Baseball League for a short time. He traveled the United States playing baseball and made many friends along the way. He was unquestionably an accomplished baseball player and his immediate, Salamanca, and St. Bonaventure families were extremely proud of him.
Rap loved his family, especially his nephews, who held a special place in his heart. He was always there for them and will be forever watching over them and their ball games. He also loved his friends, their families and children, and attended everyone's sporting events. Rap had many lifelong and supportive families in the Salamanca community, notably the Herricks, Earlys, Bartoszeks, Brundages, and Rosses. He was a diehard fan of the Baltimore Ravens, Chicago Cubs, Los Angeles Lakers, and Kobe Bryant. He was not shy about telling you this and was always "geared up" for gameday. He would root his teams and players on loudly no matter where he was, and would welcome trash talk with whomever would dare take him on.
There will be no visitation.
A private memorial service will be held at the convenience of the family.
Funeral arrangements are under the direction of the O'Rourke & O'Rourke Inc Funeral Home, 25 River Street, Salamanca, NY.
In lieu of flowers, the family suggests memorials to cff.org/westernny or the Salamanca Great Strides walk for Cystic Fibrosis.
E-condolences can be sent to orourke.orourkefh@gmail.com or posted to facebook.com/onofh.