Peter R. Quattrone Jr.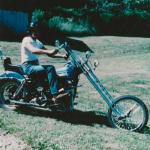 Mr. Peter R. Quattrone Jr., 65, of Salamanca, NY died Thursday morning, April 15, 2021 at his home following a long illness.
Born June 29, 1955 in Salamanca, NY, he was the son of the late Peter Sr. and Mazie Breaux Quattrone. He was married on June 11, 2005 to the former Karen Bowley, who survives.
He was a graduate of Salamanca High School, Class of 1973 and earned his Associates Degree from Jamestown Community College 1975.
Mr. Quattrone had been employed as a dispatcher for the Allegany State Park Police, retiring in 1991. He had also been employed at the former Erie-Lackawanna Railroad.
Pete will be remembered for his love of music. He had played guitar with the Big Vinny and the Mud Flaps and Stillwater bands. He enjoyed spending time with his family, especially his grandchildren.
Surviving besides his wife are: a daughter, Andrea (Chris) Ripley, Miami, FL; sons, Derek Quattrone, Seneca Rocks, WV, Stephen (Jennifer) Quattrone, WV, Robert Bly, Salamanca, NY, Timothy (Brian Becker) Bly, New Port Richie, FL, Joshua (Destiny Redeye) Matthews, Salamanca, NY; nine granddaughters, Chloe Moore, Lina Moore, Scarlett Gray, all of VA, Bayleigh Quattrone, Shaylynn Quattrone, Kenna Quattrone, all of WV, Gabriella Bly, Violet Bly, Adelina Chamberlain, all of Salamanca; three grandsons, Benson Quattrone, Paxton Quattrone, both of WV, Denan Chamberlain, Salamanca, NY; a sister, Sylvia Quattrone, Rochester, NY; niece and nephew, Casey O'Kane, Brendan O'Kane, both of Rochester, NY.
There will be no visitation.
Funeral services will be held at the Riverside Chapel, 134 Broad Street, Salamanca, NY on Monday, April 19, 2021 at 11 a.m. with Pastor Buck Hall officiating.
Burial will be in Calvary Cemetery.
Funeral arrangements are under the direction of the O'Rourke & O'Rourke Inc Funeral Home, 25 River Street, Salamanca, NY.
E-condolences can be sent to orourke.orourkefh@gmail.com or posted to facebook.com/onofh.