Philip "Pete" Ambuske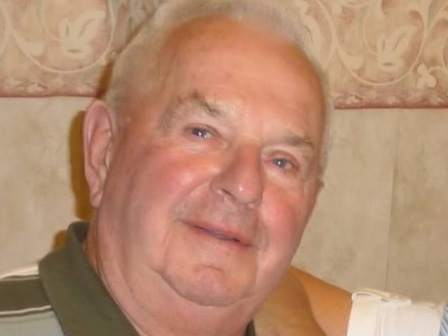 Philip "Pete" Ambuske, 85, of Great Valley, New York died Monday, January 2, 2017 at home following a long illness, surrounded by his family.
Born August 8, 1931 in Salamanca, New York, he was the son of the late Frank and Helen Bierfeld Ambuske. He was married on September 3, 1952 to the former Hedwig "Hedy" Emmert, who predeceased him on August 1, 1989. He was married on November 3, 1990 to the former Joyce Wallace O'Neil, who survives.
Mr. Ambuske was a veteran of the United States Army. He was awarded the Occupation Medal of Japan, the Purple Heart, the Korean Service Medal, the United Nations Service Medal, and the Combat Infantry Badge.
He had been employed with the NYS DOT for 29 years. Previously, he had been employed with B&O Railroad and drove Salamanca City School bus.
He was a former member of the American Legion Hughes-Skiba Post 535 and the Veterans of Foreign Wars John F. Ahrens Post 5296.
Surviving besides his wife are: a son, Richard Ambuske, Albany, NY; a stepson, Shawn (Denise) O'Neil, Great Valley, NY; four grandchildren; five great-grandchildren; a brother, Mark (Mary) Ambuske, Salamanca, NY; several nieces and nephews.
He was predeceased by two stepsons, Daniel O'Neil and Timothy O'Neil; three brothers, James Ambuske, Frank Ambuske, Fred Ambuske; and four sisters, Betty Elizabeth Simons, Dolores Hill, Anna Whitcomb Guard, Barbara Newark.
Friends may call at the O'Rourke & O'Rourke Inc Funeral Home, 25 River Street, Salamanca, New York on Wednesday, January 4, 2017 from 4 – 7 p.m.
Funeral services will be held in the funeral home on Thursday at 11 a.m. with his grandson, Trevor O'Neil, officiating.
Burial will be in Calvary Cemetery at the convenience of the family.
E-condolences can be sent to john@orourke-orourke.com or posted to facebook.com/onofh.