Robert W. Earley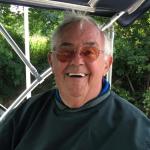 Robert W. Earley, 78, of Kill Buck, NY died Tuesday afternoon, June 7, 2022 at Jones Memorial Hospital, Wellsville, NY following a short illness.
Born March 14, 1944 in Salamanca, NY he was the son of the late John and Frances Balcom Earley. He was married on January 14, 2018 in Las Vegas, NV to the former Ann Campbell who survives.
He attended Salamanca High School and during his railroad career, he attended Cornell University's Railroad Labor Studies, and the George Meany Center for Computer Studies and Labor Relations.
In 1963 he began his railroad career, starting with the B&O Railroad and became an active member of the United Transportation Union (UTU). He became Secretary of the B&O General Committee in 1981. As he continued his advance in the UTU, he served as General Chairman and was elected to Vice President of the UTU where he served his membership tirelessly, retiring in 1999.
Bob enjoyed being on the water and boating which lead him to earn Master Captain's License. He will be remembered for his work ethic, generosity, and kindness. He loved life and was young at heart. He was happiest with his family and friends and enjoyed traveling and biking.
Surviving besides his wife are: two daughters, Tammora (George) Hinman, Ellicottville, NY, Ginger (James) Haley, Napoli, NY; a son, John (Michelle) Rockwell Kill Buck, NY; eight grandchildren, Michelle (Derek) Steinbar, Jared (Heather) Hinman, Jack Haley, Griffin Haley, Jessica (Bryan) Listowski, Andrew Weber, Claire Rockwell, Jenny Rockwell; six great-grandchildren, Brantley, Ayva, Chase Steinbar, Bryson, Bristol Hinman, Jayanna Ground; a brother, John Earley, West Valley, NY; loving nieces and nephews.
He was predeceased by a sister, Marjorie Earley Reynolds, two brothers, David and William Earley.
There will be no visitation.
A Celebration of Life will be held at the convenience of the family and will be announced.
Funeral arrangements are under the direction of the O'Rourke & O'Rourke Inc. Funeral Home, 25 River Street, Salamanca, NY.
E-condolences can be sent to orourke.orourkefh@gmail.com.