Stanley J. Bishop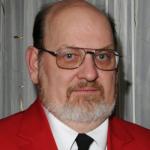 Stanley Joel Bishop, 74, of Salamanca, NY died on Monday, January 23, 2023, at Olean General Hospital following a short illness.
Born November 16, 1948, in Olean, NY, he was the son of the late Stanley E. Bishop and Phyllis D. (Froebel) Bishop.
Stanley graduated from Salamanca High School in 1966, and then graduated from the NYS Ranger School at Wanakena in 1968. He graduated Cum Laude with a Bachelor of Science Degree in Agricultural Engineering, majoring in Forest Engineering, from West Virginia University in 1978, and served as president of Alpha Epsilon, the Agricultural Engineering Honorary Society.
He served in the United States Air Force from 1968 through 1972, as a Geodetic Surveyor, obtaining the rank of SSgt.
Stanley was employed as a Civil Engineer, retiring from Cattaraugus County Department of Public Works in 2011.
Stan was a member of Dunkirk Council R&SM #25, Grand Master of the First Veil 2008 for Grand Chapter RAM, past Governor Niagara Frontier York Rite College #77 from which he was awarded the Order of the Purple Cross in 2017, past Preceptor and current Registrar of Good Shepherd Tabernacle Holy Royal Arch Knight Templar Priests, past Prior of Empire State Priory #46 Knight York Cross of Honor (KYCH),and a member of St. Marks Conclave Red Cross of Constantine. He was a member of the American Legion, VFW, Trout Unlimited, the Square Circle, and the Cattaraugus County Federation of Sportsmen. He was a member of Seneca Trails, Resource Conservation and Development Council, Cattaraugus County Water Quality Council, and the Cattaraugus County Envirothon Committee, heading the Aquatics section for many years.
Stanley is survived by three sisters, Penny (Edward) Tokash, Stockbridge, GA, Nancy (Fred) Waterman, East Aurora, NY, Debora (Daniel) Ross, Stockbridge, GA.; two brothers, Craig (Nancy) Bishop, Jonesboro, GA, Kevin Bishop, Sugarland, TX; four nieces, five nephews, many cousins, and several great nieces and nephews.
Memorial visitation will be held at the O'Rourke & O'Rourke Inc. Funeral Home, 25 River Street, Salamanca, NY on Saturday, January 28, 2023 from 10 am – 12 pm, at which time a memorial service will be held with Rev. Rebecca Harris, St. Mary's Episcopal Church, officiating. Masonic services will be conducted by members of the Masonic Temple and full military honors will be conducted by members of the American Legion Hughes-Skiba Post 535 and the Veterans of Foreign Wars John F. Ahrens Post 5296.
Burial will be in Wildwood Cemetery.
In lieu of flowers the family suggests memorials to Shriners Children's Hospital.
E-condolences can be sent to orourke.orourkefh@gmail.com or posted to facebook.com/onofh.