Thomas M. O'Rourke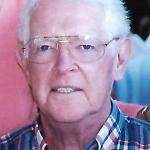 Mr. Thomas M. O'Rourke, 87, of Bonita Springs, FL, formerly of Salamanca, NY, died at home Sunday, October 27, 2019 following a long illness.
Born January 23, 1932 in Salamanca, NY, he was the son of the late James and Marjorie Driscoll O'Rourke. He was married in 1989 at the St. Bonaventure Chapel at St. Bonaventure University to the former Lucia Teresa Gutierrez Barreros, who survives. Previously, he was married to the former Anne L. Clifford, who predeceased him in 1986.
He was a graduate of Salamanca High School and a veteran of the United States Air Force, serving during the Korean Conflict, where he achieved the rank of Staff Sergeant. Upon his return, he graduated from the Simmons School of Mortuary Science with a degree in Applied Science.
Mr. O'Rourke was a licensed NYS Funeral Director and served as Vice President and Secretary of O'Rourke & O'Rourke Inc for over 35 years, retiring in 1987. He also formed and co-owned Northrup & O'Rourke Inc, a land development company that built several area townhouse developments as well as student housing. During his retirement in Florida, he served as the President of the Spanish Wells Homeowner's Association.
He was a former member of St. Patrick's Roman Catholic Church in Salamanca and attended St. Leo's Roman Catholic Church in Bonita Springs, FL. He served on the Board of Directors of the former Salamanca Trust Company and First Tier Bank & Trust (current Five Star Bank). He was also a former member of the Salamanca Chapter of the American Red Cross, Salamanca Kiwanis Club, Salamanca Conservation Club, and the Veterans of Foreign Wars John F. Ahrens Post 5296.
He loved his family greatly, especially his grandchildren. He enjoyed travelling with his wife Teresa, especially cruises, and playing tennis and bridge. He was an avid reader and enjoyed his home and garden. He was a Buffalo Bills fan and a longtime season ticket holder, attending the Bills' first Super Bowl. Earlier in his life, he enjoyed alpine skiing and boating.
Surviving besides his wife are: a daughter, Maureen O'Rourke Kiel, Haworth, NJ; two sons, James (Maureen) O'Rourke, Wantage, NJ, Kevin (Thérèse) O'Rourke, Ellicottville, NY; a stepdaughter, Yolanda (Ciro Ahumada) Barreros, Rye, NY; nine grandchildren, Kristen (Paul) Wienecke, Damascus, MD, Stephanie Kiel, Hoboken, NJ, Courtney (Matthew) Burkarth, Elizabethtown, PA, Lara Barreros, MD, Sofia Ahumada, Rye, NY, Liam O'Rourke, College Park, MD, Quinn O'Rourke, St. Bonaventure, NY, Simon Ahumada, Rye, NY, Michael Ahumada, Rye, NY; two great-grandchildren, Benson Wienecke, Damascus, MD, Jalen-Maria Butler, MD; a sister, Marjorie (Michael) Rick, Rochester, NY; a brother, Jack O'Rourke, Olean, NY; several nieces and nephews.
He was predeceased by a brother, James O'Rourke and a stepdaughter, Maria Barreros.
Friends may call at the O'Rourke & O'Rourke Inc Funeral Home, 25 River Street, Salamanca, NY on Friday, November 1, 2019 from 2 – 4 and 7 – 9 p.m.
A Mass of Christian Burial will be held in Holy Name of Mary RC Church on Saturday at 10:30 a.m. with Rev. Lukasz Kopala, pastor, as celebrant.
Burial will be in Holy Cross Cemetery, Ellicottville, NY.
E-condolences can be sent to orourke.orourkefh@gmail.com or posted to facebook.com/onofh.