William R. Costello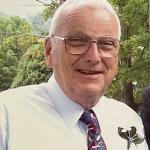 Mr. William R. Costello, 89, of Kill Buck, NY died Thursday evening, July 1, 2021 at the Pines Health & Rehab, Olean, NY following a long illness.
Born January 26, 1932 in Ulysses, PA, he was the son of the late Raymond and Vera Abbey Costello.
He had been employed as the Postmaster for the Limestone Post Office for almost 40 years, retiring in 1990, and had previously held the Postmaster position in Red House, NY. He was also instrumental in the campaign to save the Kill Buck Post Office in the 1990s.
Bill was a member of Our Lady of Peace Parish, Salamanca, NY a former member of St. Peters, Carrolton, NY, and St. Patrick's, Limestone, NY. He was also a long-standing member of the Kill Buck Volunteer Fire Department and served as commissioner and fire police. He was a veteran of the United States Air Force.
He enjoyed the outdoors and was an avid bow hunter. He owned and operated Bowlo Archery Company from his home in Kill Buck, NY for many years. He also enjoyed boating, camping and fishing.
Surviving are: a daughter, Dr. Celine Costello Daly; a son, Roger Costello; four granddaughters, Kathleen Daly, Jessica Costello, Alyssa (Costello) Billings, Ann Early; one grandson, William Daly; two step-grandchildren: Jessica (Curtis) Kamysz, Randall Costello; a brother, Benjamin Costello; a sister, Janice Yaworsky; and several great-grandchildren, nieces, and nephews.
He was predeceased by a daughter, Lori Ann Costello in 1964.
There will be no visitation.
A memorial service will be held at Our Lady of Peace Parish, 274 Broad Street, Salamanca, NY on Tuesday, July 13, 2021 at 11am with Deacon Michael Anderson officiating.
Funeral arrangements are under the direction of the O'Rourke & O'Rourke Inc Funeral Home, 25 River Street, Salamanca, NY.
E-condolences can be sent to orourke.orourkefh@gmail.com or posted to facebook.com/onofh.
In lieu of flowers, remembrances in Bill's name can be made to the Alzheimer's Association.