William E. Stone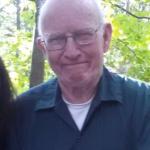 William E. Stone, 92, lifelong resident of Kill Buck, NY died Friday, October 1, 2021 at Olean General Hospital following a short illness.
Born April 18, 1929 in Salamanca, NY, he was the son of the late William E. and Emily A Rennie Stone. He was married on April 13, 1981 to the former Roberta Patterson Jacobson, who predeceased him in 2016.
He was a graduate of Salamanca High School, Class of 1946.
He was a veteran of the United States Army, serving in Japan during the Korean Conflict.
Mr. Stone had been employed as a machinist at Luminite and as a truck driver for the Town of Great Valley, retiring in 1984. As a young man, he had been employed as a clerk for the former Kill Buck Store.
He was a former Boy Scout Leader with Troop 50 in Kill Buck and a charter lifetime member of the Kill Buck Volunteer Fire Department. He was an avid photographer, loved to read, and made "inch-to-foot scale" and HO scale model trains and model doll houses. He was loved by all and will be greatly missed.
Surviving are: two nephews, Douglas (Beth Magiera) Sibley, Little Valley, NY, Robert (Leanne) Patterson, Kill Buck, NY; two great-nephews, Kevin W. Sibley, Lucas R. Sibley; a great-niece, Kara Jane Lemonds; four great-great-nephews; two stepsons, Rev. Harold (Debra) Jacobson, Clarion, PA, Donald Jacobson, Salamanca, NY.
In addition to his wife, he was predeceased by his sister, Mary Jane "Snook" Sibley and his niece, Debra Lynn Sibley.
Friends may call at the O'Rourke & O'Rourke Inc Funeral Home, 25 River Street, Salamanca, NY on Thursday, October 7, 2021 from 11am – 1pm, at which time funeral services will be held with Rev. Harold Jacobson officiating.
Interment will be at Wildwood Cemetery, Salamanca, NY.
In lieu of flowers, the family suggests memorials be sent to the Kill Buck Fire Department, 3790 Kill Buck Road, Salamanca, NY or EARS, P.O. Box 445, Salamanca, NY 14779.
E-condolences can be sent to orourke.orourkefh@gmail.com or posted to facebook.com/onofh.